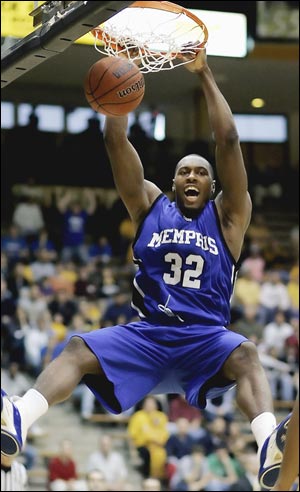 Joey Dorsey
Position 
Forward/center
Height 
6 ft 8 in (2.03 m)
Weight 
268 lb (121.6 kg)
Jersey # 
Birthdate 
December 16, 1983 (1983-12-16) (age 24)
Richard "Joey" E. Dorsey is a forward/center for the Houston Rockets.
Dorsey is most famous for leading the Memphis Tigers basketball|Memphis Tigers to the 2008 NCAA Men's Division I Basketball Tournament championship game with Derrick Rose and Chris Douglas-Roberts during his senior year. During both his sophomore and junior years on the team, the Tigers went to the NCAA tournament's Elite Eight.
During the 2007 NCAA Men's Division I Basketball Tournament, Dorsey famously called Ohio State center Greg Oden "overrated as a big man," said that Oden "might be as good as Joey Dorsey," and called himself Goliath and Oden the "the little man." Dorsey also predicted a 20 rebound game for himself. The Buckeyes defeated the Tigers by a score of 92-76 and Dorsey finished with zero points and just four rebounds. In fact, Dorsey was so overmatched during the game that he was not able to even attempt a field goal in the 19 minutes he was on the court. As terrible as he was on the offensive end, he was as bad or worse on the defensive end. Dorsey's defensive duty was to guard Oden. Oden shot 7 for 8 from the field for 17 points and also grabbed 9 rebounds.
Latest News
Edit
NBA career
Edit
Dorsey was chosen as the 33rd overall pick in the 2008 NBA Draft by the Portland Trail Blazers. After the draft, he was traded to the Houston Rockets in exchange for the draft rights to the 25th pick, Nicolas Batum.
Sitting on the bench with a sprained ankle during a summer league game on July 19th against the Washington Wizards, and with seven seconds to play, he received a technical foul and got ejected while not even being in uniform for insulting opposing player Dee Brown. Trailing by three, Washington sank the free throw resulting from Dorsey's technical foul, and Brown tipped in the tying basket just before the final buzzer. The Wizards then went on to win the game in overtime.
External links
Edit