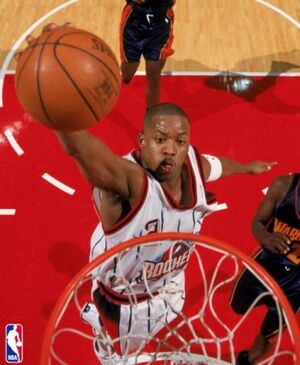 Steve Francis
Position 
Point guard/Shooting guard
Height 
6 ft 3 in (1.91 m)
Weight 
210 lb (95.3 kg)
Jersey # 
3
Birthdate 
February 21, 1977 (1977-02-21) (age 31)
Steve D'Shawn Francis (b. February 21, 1977) is a former point guard/shooting guard of the Houston Rockets. He currently is signed with the Memphis Grizzlies. Nicknamed "Stevie Franchise" when he first arrived to Houston an also self-described as "Steve-O", he was known early in his career for his Crossover dribble, driving ability, and flashy dunks.
Latest News
Edit
Francis made a political statement on Tuesday, Nov. 4th before a game against the Celtics by wearing a red velvet sports jacket with the name "Barack Obama" spelled out in sequins. Francis remarked: "Today is a transitional day in my career and everybody else's career ... Hopefully, there will be a change." He also commented: "It's important that there is an African-American candidate running ... I never thought I'd see the day that would happen. Right now, we're at a pivotal point. It's a great feeling for me." [1]
Early Years
Edit
Francis grew up in Takoma Park, Maryland with little money and no father. When his mother died of cancer in 1995, his grandmother raised him. He stopped playing basketball for 2 years after his mother's death. Prior to the trade, the Denver Nuggets reportedly offered both Watson and Kenyon Martin for Francis, but the deal never took place. He made his Madison Square Garden debut on Friday, February 24th when the New York Knicks faced the New Jersey Nets, and scored 16 points in a 94-90 loss for the Knicks. He wore jersey #1 with the Knicks as his usual #3 was already assigned to Stephon Marbury.
Return to Houston (2007—2008)
Edit
On July 20, Francis chose the Rockets; signing a two-year $6 million contract with them, although the Heat offered the most money.[2] However, he has failed to make Rick Adelman's rotation coming out of the preseason. He averaged 5.5 points and 3 assists in ten games before undergoing season-ending surgery stemming from an earlier left quadriceps tendon injury.
Memphis Grizzlies (2008—)
Edit
The Houston Rockets traded Francis to the Grizzlies on Christmas Eve, 2008. The Rockets sent Francis and a 2009 draft pick that Houston had previously received from the Grizzlies for a conditional pick in 2011. The move allows the Rockets to drop under the luxury tax threshold. They can sign another player, with intentions of re-signing Dikembe Mutumbo.[3]
External links
Edit
Cite error: <ref> tags exist, but no <references/> tag was found