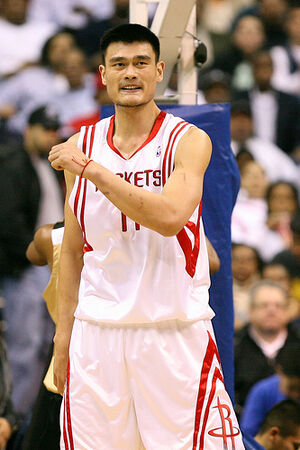 Yao Ming
Position 
Center
Height 
7 ft 6 in (2.29 m)
Weight 
310 lb (140.6 kg)
Jersey # 
11
Birthdate 
September 12, 1980
I discovered that I was always taller than my peers. Usually, I grow two to three centimeters taller than the average kid. As soon as I realized that I was taller than everyone else, there was nothing I could do about it.

[1]
Yao Ming (b. September 12, 1980) is a center for the Houston Rockets. He's currently the tallest player in the NBA, at 7'6". He is one of China's best-known athletes, with sponsorships with several major companies, and he has been the richest celebrity in China for five straight years. His rookie year in the NBA was the subject of a documentary film, The Year of the Yao, and he co-wrote, along with NBA analyst Ric Bucher, an autobiography titled Yao: A Life in Two Worlds.
Latest News  
Along with Tony Hawk, Nicole Richie and Joel Madden, Yao Ming participated in the 2008 Re-Gifting the Fruitcake promotion sponsored by Facebook and PayPal. The promotion encourages Facebook users to contribute to charity via a Facebook application. One of the charities represented is The Yao Ming Foundation at The Giving Back Fund, which rebuilds Chinese schools destroyed by the 2008 earthquake.[2]
During a November 26th game against the Pacers, Yao Ming was elbowed in the face by Pacers' Troy Murphy, opening a cut above Ming's eye. No foul was called, but Ming sat out the quarter. The Rockets went on to be defeated 91 to 90. [3]
MIng scores 28 points against Miami Heat on the 24th, securing not only a win for the Rockets, but also clinching a 3-game away win streak. [4]
Due to injuries, Yao Ming was declared "out" for the November 19th game against the Dallas Mavericks. The other two members of The Big Three, Tracy McGrady and Ron Artest, will be playing. According to McGrady: "It changes the way we play. We have to be an up-tempo team. We have to do a better job of rebounding. We don't have that post presence so we have to be more efficient." [5]
Yao Ming will help T-Mobile promote its My Faves calling service along with Miami Heat's Dwayne Wade and former NBA star Charles Barkley. [6]
Videos
| | | |
| --- | --- | --- |
| | | |
| Yao Ming's Top 10 Moments | T-Mobile's "Comfort Food" Ad | Yao Ming & Jackie Chan Visa Ad |
Magazine Covers
Image Gallery
Trivia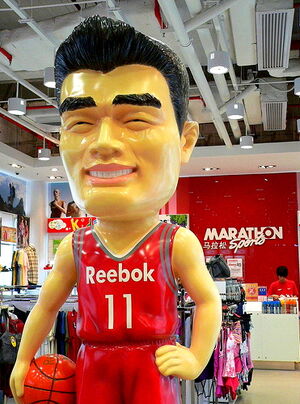 Yao Ming is the tallest active player in NBA basketball.
His career high in points scored in a game is 41, achieved on Feb. 22, 2004 against the Atlanta Hawks.
He's currently a 4-time NBA All-Star, for 2003, 2004, 2005 and 2006.
Yao carried the Chinese flag during the 2004 Olympic Games in Athens.
He stands as the first number-one overall pick to come from an international basketball league, and the fifth number-one overall pick in Rockets history.
He was twice honored with Western Conference Rookie of the Month.
Quote Gallery
When I was little, it was obviously difficult for a 9-year-old to make a basket. My father would give me all kinds of incentives to make a couple of baskets every time I would go on the playground, every time I'd play. And he would promise to buy me this and buy me that. And I am sort of bribed into it initially.

[7]
I think I'll stick to what I'm used to, my principle, and that is team No. 1 and individual No. 2. I remember going to an NBA training facility, and I remember seeing a very large letter on the wall, saying "no one's bigger than the team.

[8]
To me, first and foremost, (basketball) is a fun sport. It is a hobby, an interest. And second, it is a profession. I feel that I am very fortunate that I can find a professional job that I really, really love.

[9]
Background
Early life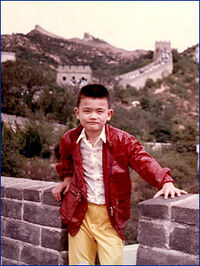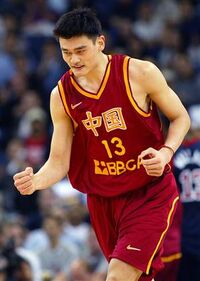 Yao was born in Shanghai, People's Republic of China. His father, Yao Zhiyuan, is 2.08 m (6 ft 10 in) ; Yao's parents were the tallest couple in China at the time of his birth.
Chinese Basketball Association
Yao first tried out for the Shanghai Sharks junior team of the Chinese Basketball Association (CBA) when he was 13 years old, and practiced for 10 hours a day to make the team. After playing with the junior team for four years, Yao joined the senior team of the Sharks at age 17, and averaged 10 points and 8  rebounds a game in his rookie season. However, his next season was cut short when he broke his foot for the second time in his career, which Yao said decreased his jumping ability by four to six inches (10 to 15 cm). The Sharks made the finals of the CBA in Yao's third season and again the next year, but lost both times to the Bayi Rockets. When Wang Zhizhi left the Bayi Rockets to become the first NBA player from China the following year, the Sharks finally won their first CBA championship. During the playoffs in his final year with Shanghai, Yao averaged 38.9 points and 20.2 rebounds a game, while shooting 76.6% from the field, and made all 21 of his shots during one game in the finals.
Entering the NBA Draft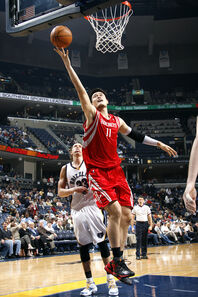 Yao was encouraged to enter the NBA Draft in 1999 by Li Yaomin, the deputy general manager of the Shanghai Sharks. Yao also said he believed O'Neal was joking, and was second in the NBA Rookie of the Year Award voting to Amare Stoudemire, and a unanimous pick for the NBA All-Rookie First Team selection. He was also voted the Sporting News Rookie of the Year, and won the Laureus Newcomer of the Year award.
Before the start of Yao's sophomore season, the Rockets' head coach Rudy Tomjanovich resigned due to health issues, and long-time New York Knicks head coach Jeff Van Gundy was brought in. After Van Gundy began focusing the offense on Yao, Yao averaged career highs in points and rebounds for the season, and had a career-high 41 points and 7 assists in a triple-overtime win against the Atlanta Hawks in February 2004. He was also voted to be the starting center in the 2004 NBA All-Star Game for the second straight year. Yao finished the season averaging 17.5 points and 9.0 rebounds a game. Although Yao said that Francis and Mobley had "helped [him] in every way [his] first two seasons", he added, "I'm excited about playing with Tracy McGrady. He can do some amazing things." After the trade, it was predicted that the Rockets would be title contenders. In the first knockout round, however, China was defeated by eventual finalist Greece. Ye was not fond of Yao at first, but finally accepted him after he gave her the team pins he had collected during the 2000 Summer Olympics.
Public life
Yao is one of China's most recognizable athletes, along with Liu Xiang. He has led Forbes' Chinese celebrities list in income and popularity for five straight years, earning 54.6 million U.S. dollars (387.8 million yuan) in 2007. A major part of his income comes from his sponsorship deals, as he is under contract with several major companies to endorse their products. He was signed by Nike until the end of his rookie season; when they decided not to renew his contract, he signed with Reebok. He also had a deal with Pepsi, and he successfully sued Coca-Cola in 2003 when they used his image on their bottles while promoting the national team. However, he has since signed with Coca-Cola for the 2008 Olympics. Garmin, and McDonald's (his favorite restaurant when he was young).
Yao is the star of the movie The Year of the Yao which chronicles his first year in the United States.
Yao has also participated in many charity events during his career, including the NBA's Basketball Without Borders program. In the NBA's offseason in 2003, Yao hosted a telethon, which raised 300,000 U.S. dollars to help stop the spread of SARS. In September 2007, he held an auction that raised 965,000 U.S. dollars (6.75 million yuan), and competed in a charity basketball match to raise money for underprivileged children in China. He was joined by fellow NBA stars Steve Nash, Carmelo Anthony, and Baron Davis, and movie star Jackie Chan. After the 2008 Sichuan earthquake, Yao donated $2 million to relief work, and created a foundation to help rebuild schools destroyed in the earthquake.
Yao is married to Ye Li, a former player for the China women's national basketball team.
External links
Sources